---
SLG130 PORTFOLIO
A fundraising portfolio of limited edition prints by five leading international artists has been created to mark the 130th anniversary of the South London Gallery (SLG). The portfolio is only available as a set and the prints are not sold individually.

The featured artists are: Alvaro Barrington, Rashid Johnson, Gabriel Orozco, Christina Quarles and Haegue Yang.

100% of profits from sales will directly benefit the South London Gallery.

Five limited edition prints on paper in a bespoke portfolio box with title page plus booklet about the artists and works.
Box and leaflet designed by Micha Weidmann Studio and fabricated by Book Works.
Gabriel Orozco: 80 x 54 cm
All other prints: 80 x 70 cm
Edition of 45, plus 12 APs
Signed and editioned by the artists
Unframed
£14,400 (INC VAT)
*The online event price is VAT exempt.
All portfolio buyers will be required to submit a copy of an approved ID document and proof of address, in line with the EU Money Laundering Directive. This legislation requires all art dealers in the EU to verify client identity when selling artwork valued at or exceeding €10,000. Your purchase is only confirmed once the SLG has approved your documents. Read the full terms and conditions of sale
---
OUr SLG130 PORTFOLIO artists
Alvaro Barrington
Spider the Pig, Pig the Spider 2021
Inkjet print on paper
80 x 70 cm
Alvaro Barrington's print edition for SLG130 is divided into two versions, one of which features the words 'Spider the Pig', and the other 'Pig the Spider'. Together they reveal the title of the artist's 2021 exhibition at the SLG Spider the Pig, Pig the Spider. This play on mutation and inter-changeability is continued through the visual composition of the prints. Multiple images of the artist's hand and forearm are overlaid with digitally rendered line drawings of spiders' legs and pigs' trotters in reference to the characters introduced in the title. These are superimposed onto a backdrop merging elements from the video game, Grand Theft Auto with Barrington's photo of a nasturtium flower and leaf at a community garden near his studio. Two of the five distinctive arm gestures are based on George Orwell's Animal Farm: one is a sign akin to the Hitler salute made by the main character– a pig called Napoleon, and another mimics the threateningly clench--fisted arms at the sides of all the pigs at the moment when they start to wear suits. A contrastingly gentle caress by Grandma Pig in the children's cartoon Peppa Pig is the source of the third gesture, alongside another inspired by the strength and flexibility of the legs in the towering bronze sculptures of spiders by Louise Bourgeois. The remaining two hand signs are from Barrington's own version of the African folktale of Anansi the Spider, into which he introduces the Black Power fist and the pointing finger of God from Michelangelo's Creation of Adam on the Sistine Chapel ceiling.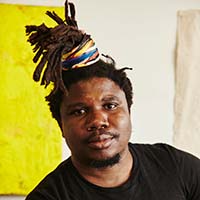 Alvaro Barrington (b. 1983 Caracas, Venezuela) is the child of Grenadian and Haitian migrant workers and was raised between the Caribbean and New York. Barrington's practice explores interconnected histories of cultural production. Considering himself primarily a painter, his multimedia approach to image--making employs burlap, textiles, postcards, clothing and cast concrete exploring how such diverse materials can function as visual tools while referencing personal, political and commercial histories. Through this confluence of materials and subject matter Barrington engages histories of music and painting associated with the Caribbean, the socio--political context of his childhood in 1980s New York, and London where he is currently based.

Recent exhibitions include MoMA PS1, New York (2017); A Taste of Chocolate at Thaddaeus Ropac, London (2018); an ongoing Tt×AB collaboration with the painter Teresa Farrell; co--curation with Julia Peyton--Jones of the exhibition Artists I Steal From at Thaddaeus Ropac, London (2019); Galerie Thaddeus Ropac, Paris (2021 and 2018); Corvi--Mora, London (2020); Sadie Coles HQ, London (2021 and 2019); Emalin, London (2019 and 2018).
Alvaro Barrington's South London Gallery exhibition is his first solo presentation in a UK institution. Extending his exploration into blending multiple cultural and visual references, he presents new works also characterised by the broad range of techniques and materials with which they are made. In a bespoke installation for the SLG's main exhibition space, the wall colours replicate those at the Barbican's 2021 Dubuffet retrospective and paintings made of concrete smeared onto exquisitely dyed Hermès blankets are hung high on the walls to prompt associations with cloud paintings, further emphasised by their proximity to the expanse of sky visible through the huge ceiling lantern. The main body of work in the show pivots around the idea of a relatively near future in which augmented and virtual reality have evolved to the point that people routinely choose which identity or character to adopt in different social and other situations, with digital and real life becoming completely intertwined. Paintings integrating printed and digitally--rendered elements merge the children's cartoon character Peppa Pig with Napolean and other pigs from George Orwell's Animal Farm, and Anansi the Spider from the African folktale with Louise Bourgeois' bronze spider sculptures.
---
Rashid Johnson
Seascape, 2021
6-channel screen print on paper
80 x 70 cm
Seascape, 2021 is a variation on a series of 'boat' drawings that Rashid Johnson began to make while isolating with his family in Long Island during the tense early months of 2020. With limited resources to hand and finding that the activity of repetitive mark--making was a therapeutic antidote to the anxiety --inducing circumstances of the COVID--19 global pandemic, Johnson began a new project, drawing daily in a series of sketchbooks. Regular sketching had been a foundational element of Johnson's early practice, which until then had lain largely dormant as he concerned himself with other media, especially installation and painting. In Johnson's print, the overlapping curved pencil lines suggest boats or waves. The boat, which may be understood as a metaphorical vehicle of escape, is a reoccurring theme in Johnson's work. These vessels seem to promise access to a future point in time, beyond the catastrophe of the present moment.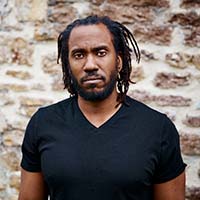 Rashid Johnson (b. 1977, Chicago, USA) is among an influential cadre of contemporary American artists whose work employs a wide range of media to explore themes of art history, individual and shared cultural identities, personal narratives, literature, philosophy, materiality, and critical history. After studying in the photography department of the Art Institute of Chicago, Johnson's practice quickly expanded to embrace a wide range of media, including sculpture, painting, drawing, filmmaking and installation, yielding a complex multidisciplinary approach that incorporates diverse materials rich with symbolism and personal history. Expressive mark--making is at the centre of Johnson's expansive practice. He recently said, 'I like that existential line--making: something that can change direction or get confused in the middle of being made'.

Recent exhibitions include Liverpool Biennale (2021); PS1 New York (2021) ; Tamayo Museum of Contemporary Art, Mexico (2019); Garage Museum of Contemporary Art, Russia (2016); Grand Palais, France (2015); MoMA NY, (2014–15)
28 September – 25 November 2012
For his first solo exhibition in London, Rashid Johnson presented an entirely new body of work in the SLG's Main Gallery. Inspired by the idea of an imagined society in which psychotherapy is a freely available drop--in service, Johnson's installation of large--scale paintings, hanging plants, Persian rugs and four wooden day beds questioned established definitions of the art object and its limitations, as well as the relationship between individual and shared cultural experience.
---
Gabriel Orozco
Planting Motion Plan, 2021
Inkjet print on cotton rag inkjet coated paper
80 x 54 cm
The starting point for Orozco's print is a photograph shot from a drone overflying the Orozco Garden at the South London Gallery that opened to the public in October 2016. The picture was taken in 2021, five years after the Garden was built and planted. Its flattened perspective shows the extent to which the Garden has matured over time with certain areas being overtaken by greenery, as was always the artist's intention. To make the print Orozco overlaid a section of the aerial image with the corresponding blueprint, rendered in green ink and highlighting the detail of the concentric circle pattern of the York stone paving. This subtle intervention demonstrates how closely the Garden matches its technical design plan and could also be read as a play on the way in which certain plants, such as Mexican fleabane Erigeron karvinskianus and Mind--your own--business soleirolier soleirolii, have seeded themselves around the lines and patterns conceived by the artist.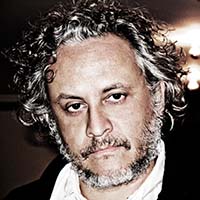 Gabriel Orozco (b. 1962 Xalapa, Mexico). Now recognised as one of the world's leading contemporary artists, Orozco's reputation was established in the early 1990s with work that spanned drawing, photography, sculpture, and installation, and expanded later to include painting. Much of Orozco's work stems from his idiosyncratic observations of contemporary urban environments, revealing poetry in unexpected locations or the often--playful combination of everyday objects. The recurrence of circles in his work, whether in nature or man--made objects (puddles, balls, wheels), or within paintings and drawings, is carried through to his design for the Orozco Garden at the SLG.

Recent exhibitions include Rotating Objects,The Noguchi Museum, New York (2019); Gabriel Orozco: veladoras arte universal, Museo Nacional de Bellas Artes Cuba (2019); Gabriel Orozco, Aspen Art Museum, United States (2016); Fleurs Fantômes, as part of the triennial commissions for the Chaumont castle at the Centre Val--de--Loire region, France (2014–2016); Gabriel Orozco – Inner Circles, MOT The Museum of Contemporary Art Tokyo (2015); Natural Motion, Kunsthaus Bregenz, Austria (2013) and Moderna Museet, Stockholm (2014). In 2019 it was announced by the President of Mexico that Orozco would, in conjunction with the Secretariat of Culture, be overseeing the construction of a major new cultural centre within Chapultepec Park in Mexico City.
The SLG's permanent Orozco Garden opened in 2016 and was created by the artist over two years with support from 6a architects and horticulturists at the Royal Botanic Gardens, Kew. Orozco embraced the challenge of transforming a largely inaccessible paved area of land at the back of the SLG's main building into a unique sculptural work, despite never having designed a garden prior to his commission. Establishing a tension between symmetry and asymmetry, a geometry of intertwining circles intricately outlined in brick--dimensioned York stone subtly maps a series of discrete spaces or notional rooms in the overall Garden. Each area has its own distinctive character, through slight shifts in form or height, variously planted or featuring seating, a sink, water butt or welcome bowl built up from the stone bricks. The various levels and spaces can be used interchangeably for sitting, eating, playing, or showing work by other artists, reflecting the multiple activities the Garden is used for.
---
christina quarles
I's Above Me, As Below, 2021
Lithographic print on paper
80 x 70 cm
This distinctive print is inimitably the work of Christina Quarles. Developed from an idea taken from an earlier painting, the print focuses on an androgynous figure in a sky--filled landscape bisected by a folded plane in a floral pattern suggestive of a domestic floor or tablecloth. Quarles has said that in her work perspectival planes '…situate and fragment the bodies they bisect. […]. Fixed categories of identity can be used to marginalise but, paradoxically, can be used by the marginalised to gain visibility and political power. This paradox is the central focus of my practice'. Typically for Quarles, the identity of the figure in this print is deliberately ambiguous, opening up possibilities for multiple readings, from a winged, haloed angel, through to a baby, or a corpse buried in a foetal position, seeming to suggest both an ending and the start of something new, unfixed and auspicious. Quarles created this print by painting directly onto clear sheets of mylar in different colours. Each painted layer was then digitally tweaked, scanned and overlaid to create the final image.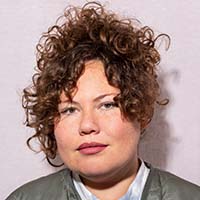 Christina Quarles (b. 1985, Chicago, USA) works in an intuitive, gestural way. Although graphic line drawings (often incorporating text) are an important part of her practice, she tends to embark on each new painting without preparatory sketches so that the composition unfolds through the making process. Taking the extent of her own arm's reach as a measure, she uses a broad range of painting techniques to render entwined bodies with contorted limbs. Quarles revels in the indeterminate gender of the bodies she depicts, and the tendency of viewers to impose their own interpretations onto whatever they see. These figures exist within and against abstracted environments created by stencilling motifs drawn from a variety of sources, sometimes playing on fabrics and patterns that might stereotypically be associated with femininity and domestic space.

Recent exhibitions include Christina Quarles, MCA Chicago (2021 ); Dance by tha Light of tha Moon, X Museum, Bejing (2021 ); I Won't Fear Tumbling or Falling/ If We'll be Joined in Another World, Pilar Corrias, London (2020); But I Woke Jus' Tha Same, Regen Projects, Los Angeles (2019). Quarles was a 2016 participant at the Skowhegan School for Painting and Sculpture and was the inaugural recipient of the 2019 Pérez Art Museum Miami Prize.
18 June – 29 August 2021

This exhibition which brought together Quarles' vibrant and textured paintings, as well as works on paper was her first solo exhibition in a major London institution. Quarles creates surreal and deliberately ambiguous images of bodies that seem barely contained by the frame of the canvas. The figures in these expressive, large--scale paintings embody her perspective on the world and she has described them as conveying 'the experience of living in a body rather than looking at a body'. The reading of Quarles' compositions is left open for the viewer to resolve. Facial features are obscured, and skin is rendered in a spectrum of shifting colour. These painted figures elude definition in reference to Quarles' own experience as a queer cis multiracial woman, who is often presumed to be white despite having a black father and white mother. The potential for misreading and multiple meanings is further underscored by Quarles' play on words in the titles of both her drawings and paintings. Taken from songs, poems or other texts she encounters, the titles also reveal some of the literary, musical and autobiographical references that underpin her work. Eight of Quarles' paintings including For a Flaw/For a Fall/For the End, 2018 and Sumday (We Gunna Rest on) Sunday, 2019 were displayed in the SLG's Main Gallery alongside a selection of the artist's drawings.
---
Haegue Yang
The Source of Spring is in the Trace of a Movement, 2021
SCREENPRINT ON PAPER WITH DEBOSSING
80 x 70 cm
The Source of Spring is in the Trace of a Movement is an adaptation of the inscription on the original marquetry floor of the South London Gallery's main exhibition space, designed by the 19th--century artist and socialist activist, Walter Crane. The original inscription, "The source of Art is in the Life of a People" has been translated into Burmese and re--worked to relate to recent mass pro--democracy protests in Myanmar. This movement, known locally as the Spring Revolution, began in opposition to the military coup of February 2021. Basing the design for her print on a digital tracing of the original floor pattern, Yang has reconfigured Crane's Art Nouveau motifs to allude to the three--finger salute used by Myanmar's pro--democracy protesters. The imagery of Burmese medicinal plants, inserted between the original motifs, appears significant considering the current unrest and adds contemporary texture to the notion of "a people" evoked by Crane.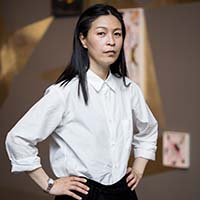 Haegue Yang (b. 1971 Seoul, South Korea) creates immersive environments from a diverse range of materials. Yang's art often reflects or embodies the multi--layered idea of 'movement'. The physical mobility of the sculptures Sonic Dress Vehicles in her SLG exhibition of 2019, Tracing Movement, explored the intersecting themes of migration and identity through the 'dance' of the Vehicles on the floor. Yang's specially commissioned print invokes the idea of movement by alluding to the force of collective political action.

Recent exhibitions include Strange Attractors (2020) at Tate St Ives; Emergence (2020) at the Art Gallery of Ontario, Toronto; O2&H2O (2020) at the National Museum of Modern and Contemporary Art, Korea; The Cone of Concern, (2020) at the Museum of Contemporary Art and Design, Manila; In the Cone of Uncertainty (2019) at the Bass Museum of Art, Miami Beach; Tracing Movement, (2019) at the South London Gallery; and her first European survey show, ETA 1994–2018 (2018) at the Museum Ludwig, Cologne. In 2018 Yang was awarded the Wolfgang Hahn prize. Her installation Handles was on view at the Marron Atrium of the renovated Museum of Modern Art, New York, from 2019 to 2021.
8 Mar – 26 May 2019

Tracing Movement in the South London Gallery's main space brought together recent works with newly conceived pieces, including works from Yang's Trustworthies series (ongoing since 2010), Hardware Store Collages (2012–) and Lacquer Paintings (1994–). These wall--mounted works provided the setting for two large, wheeled sculptures developed from the Dress Vehicles series (2011– ): Sonic Dress Vehicle – Hulky Head and Sonic Dress Vehicle – Bulky Birdy (both 2018). These sculptures, with their powder--coated aluminium frames dressed in venetian blinds and brass--and nickel--plated bells, created a subtle yet distinctive rattle when activated by performers who traced the invisible historical marquetry hidden beneath the new floor.
---
KATHARINA GROSSE SPECIAL
EDITION FOR SLG'S 130TH ANNIVERSARY
KATHARINA GROSSE
Heart and Hair, 2021
Limited edition inkjet print on modal twill fabric
200 x 140 cm
Edition of 100 + 20 APs, signed certificate
£1,200 (INC VAT)
ONLINE EVENT PRICE £1,000*
Katharina Grosse (b.1961, Freiburg im Breisgau, Germany) creates large scale and site-specific works that engulf both interior and exterior spaces, unhindered by the traditional boundaries of the pictorial field. For Grosse, there is no distinction between painting, sculpture and architecture. As well as her smaller studio canvases, she paints on found materials, cast-metal sculptures and lengths of draped fabric, creating fully immersive installations. Grosse has said, 'We have so much imagery in our lives that comes from homogeneous surfaces – from the screen, from photography, from our phones. I think that tactile images, or multi-layered images such as painting, provide a different kind of knowledge. I am searching for a painted picture that has bodily contact, that addresses the entire bodily intelligence'.

Katharina Grosse was born in 1961 in Freiburg, Germany, and now lives and works in Berlin and New Zealand. Her work has been featured in international solo and group exhibitions, as well as major arts projects and biennales. Recent notable solo exhibitions and projects include: "This Drove My Mother Up the Wall", South London Gallery, London, England; "Katharina Grosse", Museum Frieder Burda, Baden-Baden, Germany (2017); Katharina Grosse: "Mumbling Mud", chi K11 art museum, Shanghai, China; "Wunderbild", National Gallery, Prague, Czech Republic; "The Horse Trotted Another Couple of Metres, Then It Stopped", Carriageworks, Sydney, Australia (2018); "Farbe absolut: Katharina Grosse x Gotthard Graubner", MKM Museum Küppersmühle für Moderne Kunst, Duisburg, Germany; "Mural: Jackson Pollock/Katharina Grosse", Museum of Fine Arts, Boston, MA (2019); "Katharina Grosse: It Wasn't Us", Hamburger Bahnhof, Museum für Gegenwart, Berlin, Germany; "Katharina Grosse: Is It You?", Baltimore Museum of Art, Baltimore, MD (2020). Currently her solo exhibition "Chill Seeping from the Walls Gets between Us" is on view at HAM – Helsinki Art Museum (until January 23, 2022).
28 Sep – 3 Dec 2017
For her first institutional solo exhibition in London, Katharina Grosse presented a new work, "This Drove my Mother up the Wall", 2017 painted in situ at the SLG. In the main exhibition space, she made the void the dramatic centre of her project, masking the floor with a large foam stencil, then painting over it and the surrounding walls. Once she removed the stencil, a bright, white area of floor was revealed, untouched by the veils of colour and broad, propulsive marks spreading to all sides. The exhibition also included two documentary films screened on the first-floor galleries intended to frame Grosse's creative practice and research interests. In the short documentary from the series "Women Artists" (2016) written and directed by Claudia Müller, Grosse curates a fantasy exhibition by ten other female artists and discusses her selection of artists and artworks, and the relationship between their practices. The second documentary film "The Gleaners and I" (2000), directed by Agnès Varda, was a source of inspiration for Grosse's installation. Varda's film deals with the marginal, the residual, and the invisible and ponders the gleaning nature of digital filmmaking.
---
other ways to support
Become a patron
Support the SLG as a Patron or Benefactor and enjoy access to exhibition opening dinners, previews and other exclusive events as well as acknowledgment on the SLG website and donor board at the gallery and special discounts on editions and publications.
---
Make a donation
Every donation helps us to keep the gallery and its activities free, and realise our ambition for contemporary art to be accessible to all.
---
---
about the slg
South London Gallery (SLG) is an award-winning contemporary art space in Southwark, with an exciting programme of free exhibitions and an acclaimed education and outreach programme with inclusion at the heart of its mission. For more than 130 years it has stayed true to its aim, 'to bring art to the people of south London'.
SLG CENTRAL
30 OLD BURLINGTON STREET, W1S 3AR
TUE 21 SEP - SUN 17 OCT
TUE - SAT, 11AM - 6PM
SUN 17 OCT, 11AM - 6PM
FREE
The SLG130 portfolio will be on view alongside other SLG editions and information on the gallery's history at SLG Central, our pop-up space at 30 Old Burlington Street, celebrating our 130th anniversary.

SLG Central is generously supported by Cork Street Galleries.
Cork Street Galleries is an initiative from the Pollen Estate.
---
SLG 130TH ANNIVERSARY IS GENEROUSLY SUPPORTED BY
SLG130 Committee
Malik Al-Mahrouky, David Cleaton-Roberts, Sadie Coles,
Monica Fernandez-Taranco, Rebecca King Lassman, Sigrid Kirk, Adam Prideaux, Matthew Slotover and Neil Wenman.
---
1. South London Gallery Main Gallery. Photo: Andy Stagg. 2. Haegue Yang, Tracing Movement 2019 installation view. Photo: Sam Nightingale. 3. Children taking part in a workshop at Art Block, the SLG's dedicated education space on Sceaux Gardens estate. Photo: Andy Stagg. 4. South London Gallery Fire Station. Photo: Dan Weill. 4. Alvaro Barrington, 'Spider the Pig, Pig the Spider', 2021. Photo: David Harrison. 5. Alvaro Barrington, Photo: Jeremiah Cumberbatch, 2018. 6. Rashid Johnson 'Seascape', 2021. Photo: Andy Stagg. 7. Rashid Johnson, Photo: Alex Ernst (Cosmic Studios). 8. Gabriel Orozco, 'Planting Motion Plan', 2021. Photo: David Harrison. 9. Gabriel Orozco, Photo: Enrique Badulescu. 10. Christina Quarles, I's Above Me, As Below, 2021. Photo: David Harrison. 11. Christina Quarles, Photo: Ilona Szwarc, Courtesy of Pilar Corrias, London. 12. Haegue Yang, The Source of Spring is in the Trace of a Movement, 2021. Photo: David Harrison. Haegue Yang, Image courtesy of the artist and kurimanzutto, Mexico City / New York. Photo by Abigail Enzaldo, 2017.
South London Gallery Fire Station,
82 Peckham Rd,
London
SE15 5LQ

Registered Charity Number: 312160

VAT no. 997 3210 88

Registered as South London Fine Art Gallery & Library